Welcome to Food and Nutrition Department
Babre Lewis, Director
Steven Gregg, Operations Supervisor
Lauri Patton, Administrative Assistant
PHONE: 858-668-2570
STAFF DIRECTORY

Welcome Back, Students!


Good nutrition and learning go hand in hand. The Food and Nutrition Department is made up of a team of food and nutrition professionals who are dedicated to students' health, well being, and their ability to learn. We support learning by promoting healthy habits for lifelong nutrition and fitness practices. Meals, foods, and beverages sold or served at schools meet state and federal requirements, which are based on the USDA Dietary Guidelines. We provide students with access to a variety of affordable and appealing foods that meet the health and nutrition needs of students.

New Meal Prices for 2016-17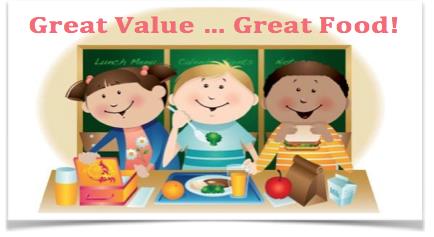 * Breakfast is served in 8 schools
"SMART SNACKS IN SCHOOL" NUTRITION STANDARDS
The Healthy, Hunger-Free Kids Act of 2010 required the US Department of Agriculture to establish nutrition standards for all foods sold in schools. The new Smart Snacks in School nutrition standards became effective July 1, 2014. This guidance provides updated nutrition standards for all foods and beverages sold on school campuses, to students during the school day, outside of the school meals programs. In California, these federal standards are combined with existing California law regarding competitive food sales on school campuses. This includes foods and beverages sold a la carte in nutrition centers, in school stores, at snack bars, through fundraising, from vending machines, and any other venues that sell food to students. The intent of the legislation is to increase the consumption of healthy foods during the school day and create an environment that reinforces the development of healthy eating habits.
The Smart Snacks standards do not apply to: (1) items sold more than 30 minutes after school ends, on weekends, or off and away from school grounds; or (2) foods brought from home for personal consumption. Additional information about Smart Snacks in Schools is available here:
Smart Snacks Standards for Elementary Schools
Smart Snacks Standards for Middle and High Schools

Food Sales Approval Request Form - Elementary Schools
Food Sales Approval Request Form - Middle and High Schools
Healthy Alternatives for Food Rewards