Farm-to-School for Fresh Fruits & Vegetables
Across the country, an increasing number of schools and districts have begun to source more foods locally and to provide complementary educational activities to students that emphasize food, farming, and nutrition. This nationwide movement is designed to enrich children's bodies and minds while supporting local economies is often referred to as "farm to school."

The objectives of the Food and Nutrition Department is to serve healthy meals in school nutrition centers and improve student nutrition, while providing agriculture, health and nutrition education opportunities...and we want to support our local and regional farmers.

The key is to make these fresh options available and to get kids to try new things. Farm to School programs link school students and farmers in a way that improves foods offered in schools, educates kids about healthy eating and local foods, and creates income opportunities for farmers supplying to schools.
A Farm-to-School Fresh Fruit and Vegetable Program can be an important catalyst for change in our efforts to combat childhood obesity by helping children learn more healthful eating habits. It has also been proven to be a successful way to introduce kids and teens to a variety of produce that they otherwise might not have the opportunity to sample.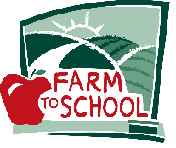 Click here for the Farm-to-School District Profile for Poway Unified School District.
School Board Acknowledges National Farm to School Month